Nov 3, 2019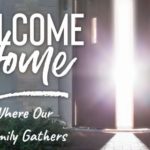 Where You Are Free To Be Yourself
One of the joys of being home is you need not put on airs. Out in the world, we do all we can to hide our faults and failings. You might be afraid if your boss knew your secrets, he'd give you your walking papers. You might be afraid that if neighbors knew your personal issues, they might consider moving. But we know that in a healthy family, people will love us in spite of our faults. As a young man, Martin Luther thought of himself as God's slave. Thus he was terrified of God. Luther believed God was a terrifying taskmaster, looking for every possible reason to punish him. But as Martin Luther studied God's Word, he realized that was not he case at all. God is loving Father. He does not pretend we have no brokenness sin, but he paid for it all by the death and resurrection of Christ. Scripture says that through faith in Christ, we are completely forgiven. we are part of God's own family-a family where we are loved in spite of our faults. God's grace not only frees us from the fear of condemnation and punishment, it frees us to live a better, more grace-filled life. We want to live as God's children. We want to love and bear with one another-our brothers and sisters-just as out Father loves and bears with us.
Watch
Notes
Download
Date
Title
Nov 3, 2019

Where You Are Free To Be Yourself

Oct 27, 2019

Week 1: Our Need for Christian Community

Oct 20, 2019

Failing Forward

Oct 13, 2019

Week 2: Small Steps Towards Big Destruction

Oct 6, 2019

Week 1: When the Strong are Weak

Sep 29, 2019

Dont be Afraid!

Sep 22, 2019

Week 4 – Destiny: Where are we going to go when we die?

Sep 15, 2019

Morality:What is good?

Sep 8, 2019

Meaning: Why are we here?

Sep 1, 2019

Origin: Where did we come from?