Feb 5, 2023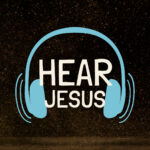 You are…So Be…So That…
What an object is often clues us in to what it does. Jesus uses that same truth when teaching us about being his disciples. He says, "You are salt" and "You are light." So what does that tell us we should be and do? And even more importantly, why? For what purpose? Discipleship for Christ comes down to understanding the three factors: Form, function, and purpose. Today, Jesus tells us, "You are...So Be...So That..."
Watch
Notes
Download
Date
Title
Feb 5, 2023

You are…So Be…So That…

Jan 29, 2023

"Backwards" Blessedness

Jan 15, 2023

Look, the Lamb of God!

Jan 8, 2023

United by the Anointed

Jan 1, 2023

Asking God "Why?"

Dec 24, 2022

A Savior Is Born to You (Christmas Eve)

Dec 11, 2022

Are You the One?

Dec 4, 2022

Rejoice to Meet the Judge

Nov 30, 2022

Trust in the Promise

Nov 27, 2022

See, Your King Comes to You!