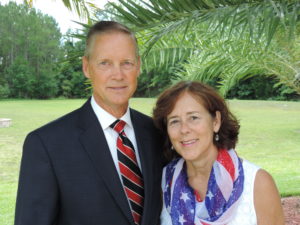 Pastor Phil and Anne Hoyer would like to welcome you to Victory Lutheran Church and Preschool. Anne and I were called to start this church in the Fall of 1998. Pastor Phil grew up in Minnesota. He achieved his Bachelor of Arts degree from Northwestern College in Watertown, WI and his Master of Divinity from Wisconsin Lutheran Seminary, in Mequon, WI. Pastor Phil has served churches in Florida, Alberta (CAN) and Minnesota.
We were married in 1976 and have lived in different cities from the Rocky Mountains of Alberta, Canada to Minnesota to Florida. We have three grown children and two grandchildren. Moving from the frigid climes of Minnesota to warm and sunny Jacksonville is by far the friendliest city that we have lived in!
We look forward to getting to know you and serve you with Christ's love at Victory.