The Annual Golf Tournament is a fundraiser for the church and our Preschool. The Golf Tournament is played every year a few weeks prior to our Easter. The tournament is played at Queens Harbor Golf Club off Atlantic Blvd. The tournament has many chances to win great prizes. First place is a foursome from Slammer and Squire, as well as a trophy and a plaque with the foursomes name on it. 2020 will be our seventh year hosting the tournament. Below you find more details on the Tournament. If you are interested in helping with the Tournament you may email Bill Harvey.
2020 Golf Tournament Info
The 2020 Annual Golf Tournament will be held on March 23,2020 at Queens Harbor. Registration starts at 8am and Tee time is 9am. You can register online or you can the print the forms and email them to Bill Harvey. Click Register Now to register online.
We are looking for sponsorships for Hole and Team. Hole Sponsorships are 125.00 for New Sponsorships and 100.00 for returning sponsorships. Below is a video of the course at Queens Harbor.
You will find all the forms below.
2018 Golf Tournament Winners and Sponsors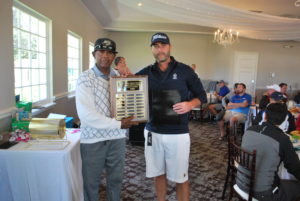 A Huge Thank You to the 2018 Sponsors
Ortho Pediatric — Joel Huebner
Ed and Judy Abrilz — In Memory of Marilyn Harvey
Richard and Laura Makouske
Grandma and Grandpa Huebner in honor of Nick, Silas & Lydia Cochran, Noah, Joshua & Caleb Huebner
Groomed Gardens – Elmer Groom
Mark Menzel – Jolly Good Foods
Jeff Lott – Gutters to Ground Pressure Washing
Julington Creek Pest Control
Phil Hoyer – Victory Church Council
Page maintained by Bill Harvey