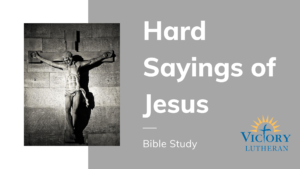 SUNDAY MORNING ADULT BIBLE STUDY
Have you ever read something Jesus said in the Bible and thought, "Huh?!? What does he mean? That doesn't sound much like the Jesus I know!" You're not alone! Sometimes, our Savior said some things that were hard for people…including us, to understand! Join us at Victory for our next Bible Study series, Hard Sayings of Jesus. Each week, we'll be exploring another "hard saying," to help us understand the context, and what Jesus means with his words, so that you'll have a clearer and deeper understanding of what Jesus is saying, and what it means for your life and eternity!
Join us for this study opportunity on Sunday mornings at 9:15am, in person, or on Zoom!
Zoom Video Bible Study– Click below to join:
THURSDAY MORNING BIBLE STUDY
In person at church, or online via Zoom at 10am!