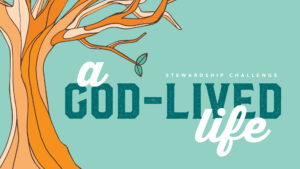 Stewardship is about more than just our money. It's about our whole lives! Jesus lived his life and gave his life for us. Our loving response is to imitate that.
Over the months of February to May, God's Word will be challenging us, and we'll be challenging one another to live a God-lived life. And that encompasses everything! We will be talking about a life of being a disciple, a life lived for others, a life of hospitality, and a life lived shrewdly.
We will begin each month with a kickoff worship service, focusing on a specific area of stewardship. At that service, we will be introduced to a challenge that we then prayerfully commit to carrying out the rest of that month. This is intended to help us grow in an area of the Christian stewardship of our whole lives! As individual members, we will fill out a different challenge card each month. Each month's card will offer a menu of ways you can challenge yourself to do the things a disciple does. You'll be asked to commit for that month (and hopefully beyond!) to at least one of those challenges. The goal is to take the things we all want to do, and know we should be doing, and make them a little more doable; to help us continue in the good spiritual habits of a God-lived life that we've begun to form! We'll help you keep that focus on your challenges with resources and encouragement each week for the rest of that month. May God bless us as we grow in his Word and in our lives of living it over the course of the next four months, and beyond!
Be sure to come back to this landing page to access all of the virtual content you'll need to challenge yourself and be encouraged to live a God-lived life, a life where every facet of your life is given to the God who gave himself for you!
February– A Life of Being a Disciple
March– A Life Lived for Others
April– A Life of Hospitality
May– A Life Lived Shrewdly

God became man and lived life in our place. Christ lived the perfect God-lived life. Living as a Christian, a little Christ, we have the privilege of demonstrating what God looks like in how we live our lives, in living lives that show God. This is the final of four months where God's Word will be challenging us, and we'll be challenging one another to live a God-lived life.
While stewardship of our finances isn't the only part of stewardship, it is a part of it. Today God's Word encourages us to use all of the financial gifts God has given us with an eye on our purpose. May God grant us grace to use money for what really matters!
This month, we focus on wise ways to use the resources God has given us for the greatest good.
May Resources
A Life Lived Shrewdly Encouragement Devotion–Week 2
A Life Lived Shrewdly Encouragement Devotion–Week 3
A Life Lived Shrewdly Encouragement Devotion–Week 4